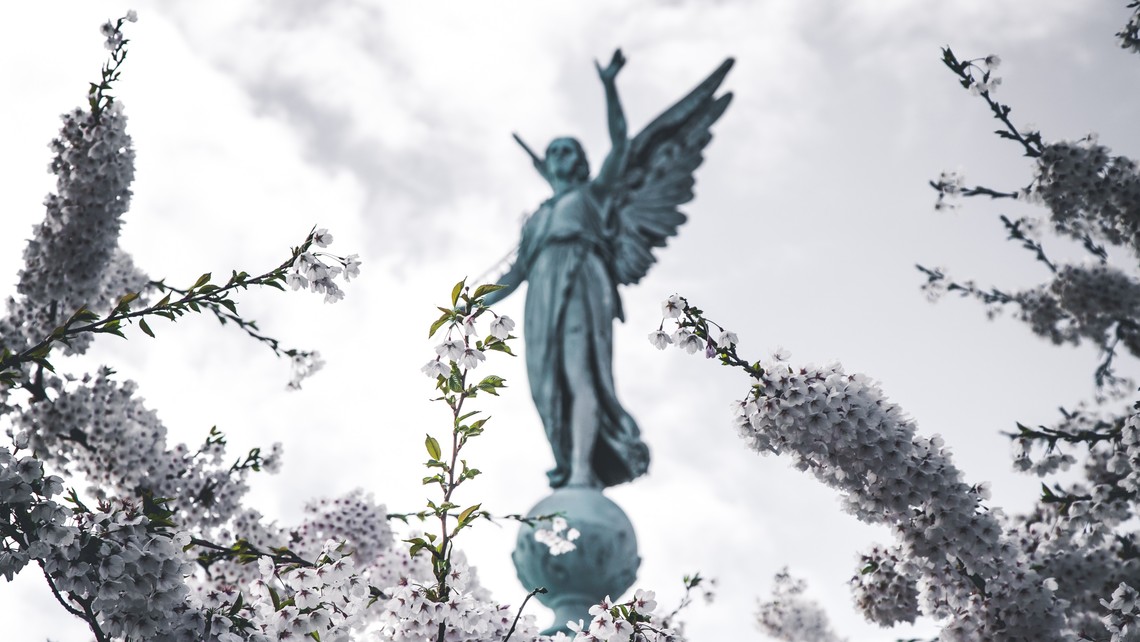 This was a time of a major crisis in my family. My husband had just abandoned me and my 18-year-old son after a 33-year marriage with no notice and no reason —just gone.
I was trying to handle all the emotional and spiritual shipwreck this caused myself and my son. It was then that I first met Br. Michael while visiting my close friend, his mother, in Houston TX several years ago. I was a bit shocked at how Br. Michael looked in his cassock that looked like some antique out of my grandparents' cedar chest! Although I was Baptized and received First Communion and First Confession in the old Latin rite, I was Confirmed and received the Sacrament of Holy Matrimony in the new rite. I was a bit unsettled by Br. Michael's appearance. Yet, Br. Michael was not "old" but very young and engaging as a person.
Br. Michael gently guided and encouraged me to grab the spiritual anchor of the Church and start with prayer. He introduced me to sacramentals such as St. Michael Chaplet, the Rosary, Holy Water, Blessed salt and oil, and frequent Communion and Confession. I remember in particular Br. Michael was concerned with some of the books on spiritualists and other religions my son was turning to as solace for the sudden loss of his father which totally changed his life and shattered his trust.
Br. Michael offered to talk to him, and did so several times both at our home, via calls and texts and other times at coffee shops during his various trips to his parents in Houston. It certainly had to be quite a sight! A young "old-fashioned" religious brother and a young Hookah-smoking young adult with tattoos, big gauges in his ears, rings in his tongue and ears with long hair, talking one-on-one in the front of Barnes & Nobles! I was very thankful Br. Michael took an interest. My parish priest only offered us his prayers, but Br. Michael offered his deeds.
Little by little, by the grace of God and prayer, I saw genuine changes in my son. Since the Lord treats us all uniquely, He initially drew my son to a 24 hour Eucharistic Adoration chapel at a local parish. It was the only place he could go at midnight to silently weep at the foot of the Eucharistic Christ in the early morning hours without prying eyes and judgmental stares you get at going to Mass the way he looked. Initially, going back to Mass was definitely 'out,' but silence with Christ and his broken heart was his 'in.' This lasted quite a while, but Br. Michael still kept in touch occasionally. The seed was planted, God was making it grow!
I still think it is very odd, that the "old ways" seem to attract the "young." Maybe just because the young want nothing to do with the ways of their parents at a crisis point in their lives, or maybe the "old ways" give the young lots of space and solitude and concrete disciplines with a heavy dose of the Sacraments and sacramentals to think on their own in communion with God in the more solemn celebration of the Mass.
Eventually, my son stepped into making it to a Sunday Mass but would only stand in the vestibule at my local parish. He was in late and out fast avoiding everyone and everything around him. However, Brother Michael invited us to the Tridentine Mass a couple of times in downtown Houston and my son went inside and "really liked it." Go figure!! My son now enjoys both rites. I discovered that Saint Padre Pio asked to be excused from celebrating Mass in the new rite and it was granted to him, but he died before it was officially imposed on all. Saint John Paul II embraced the new rite and this too also appealed to youth. This tells me that the Lord calls all in unique ways, no religious order is "superior" to the other because they are all called to be faithful trustworthy shepherds of the sheep in their charge and faithful to their own charisms and rite. In this day of grave crisis in the Church, I trust and I know God will never abandon the Church as He has promised.
To make a long story of conversion short, I am very grateful that Br. Michael has chosen a unique calling exclusively to the old rite that certainly helped my son who has now fully returned to the sacramental life, consecrated to the Blessed Virgin Mary and has even started to explore the religious life himself!
As is written in the Gospel of Saint Matthew: "By their fruits Ye shall know them." My son is one of those fruits.
~ THERESA H. (Houston, TX)
Saint Thomas Aquinas House is an independent 501(c)3 public charity dedicated to supporting men pursuing traditional priestly and religious vocations.  We welcome your stories about how the vocations we support have impacted your lives.  Contact us to make a featured posting and testimonial.